Next Steps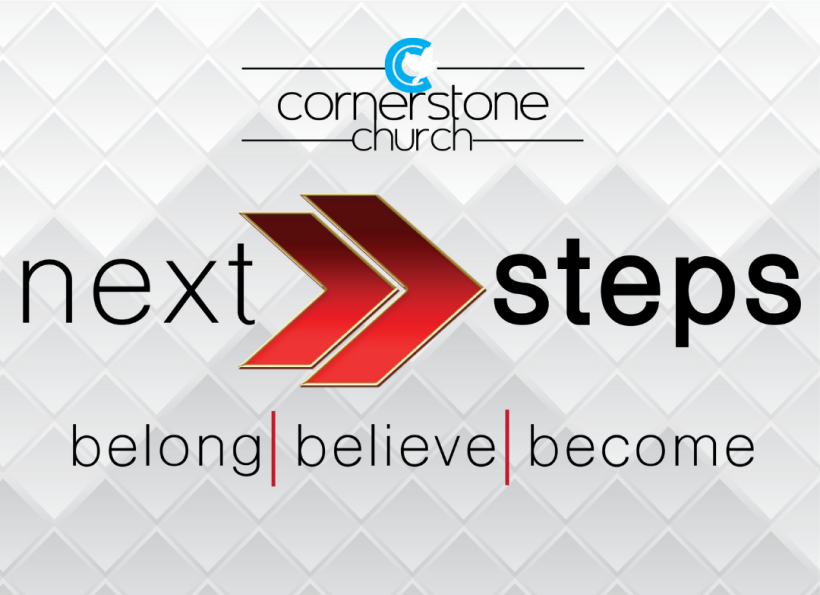 Our Next Steps Discipleship program is starting back up on Sunday October 3rd! All 3 levels will run simultaneously at Cornerstone Church, 656 Oxford Road, from 8:00 -8:40am.

There is no better time than NOW to further your understanding of doctrine and start putting deep roots down in your Christian faith journey! Sign up today and secure your spot using the form below or by emailing !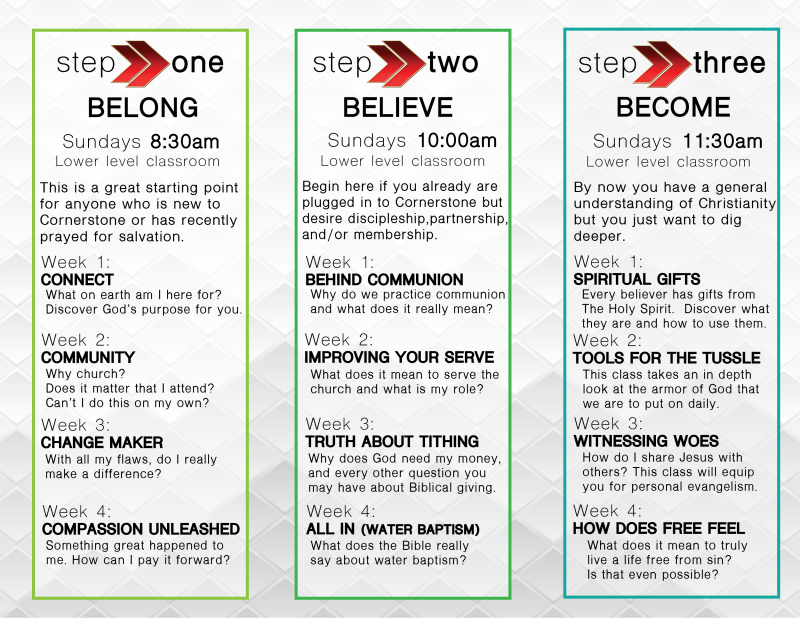 Welcome
We are so happy that you are taking a minute to learn how Next Steps can help you on your spiritual journey.
Whether you have been in church for years or are visiting for the first time, Next Steps is a terrific way to:
Belong to this community that we call Cornerstone Church
Learn what you Believe about God, the Bible and Faith in general.
Become a fully devoted follower of Jesus Christ.
You can jump in at any time. We have a group of teachers who would love to pray and partner with you on your journey. Thanks you again for choosing Next Steps! Your life will never be the same.
PURPOSE
One of the greatest things we can discover in life is that God has a purpose and a plan for use. The problem is that we are inundated with distractions, temptations, compromises, and fall doctrine.
Next Steps is designed to accomplish a number of things in the life of an individual. While the classes will provide a support system and a deeper friend base, the hope is that everyone will not just call Cornerstone their church but that each person will actively BE THE CHURCH.
As Christians, we are called to "Make Disciples" Matt 28:19-20. This cannot be accomplished by Sunday sermons alone. This is action taken by both the teacher and the student.
Next Steps will deepen your understanding of salvation, scripture and doctrine. It will also create a safe environment for prayer, practice and personal relationships.
Next Steps is also the on ramp for things like Water Baptism, Service and Membership. If you are willing to put in the work, you will find that you will have a firm grasp on the NEW PERSON you are in Christ, the NEW PURPOSE He has for your life and the NEW PLAN that is laid out for you in the Bible. So join us each Sunday as soon as possible.
Next Steps meets every Sunday year round. You are welcome to join us anytime!