Cornerstone Kidz

Cornerstone Kidz is a ministry of volunteers and Cornerstone staff who work together to connect with, pour into, and have fun with children of all ages.
Kidz Ministry
Happening at all services!

Who we are:
Cornerstone Kidz is more than a Sunday school, it is a movement! We believe that our children are the next generation and because of that, they are the greatest investment into the kingdom of God. Our goal on Sunday mornings is to equip them for the darkness they are faced with every day by sowing the word of God into their lives in a fun and relevant way. We believe by doing this, we are helping raise up a generation that will carry the torch for the Kingdom of God and walk into their God-given destiny!
What we do:
Every month, Cornerstone Kidz learn a new theme of principles from God's word. Each lesson includes fun warm ups, games, scriptures for them to learn, time to pray for anything on their hearts, and of course lots of fun, snacks, and music! We also provide parents with a Parent Review at the beginning of each month so you know what your children are learning and what to talk about on that car ride home.
Our Team:
We have an amazing group of volunteers that have a passion to love and teach children. Each teacher/ assistant teacher must be a born again believer. Each volunteer is required to sign a code of conduct as well as complete a background check before working in the children's ministry. After training, teachers are scheduled monthly and participate in monthly team meetings.
Age Groups:
NURSERY: Infants 0-2 years of age
We provide a "Cry room" with live service streaming for your convenience (not assisted by teacher).

TODDLER: 2 years old to 4 years old
ELEMENTARY: 5 years old to 5th grade
Learn More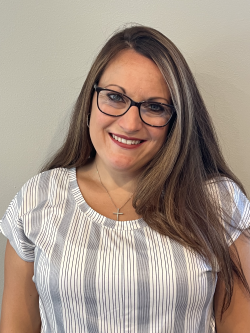 Jaclyn Mattison
Children's Director, Cornerstone Kidz Ministries
For more information about our Cornerstone Kidz Ministry, please contact Jaclyn, our Children's Director: .